Modern Day Slavery and Human Trafficking Fellows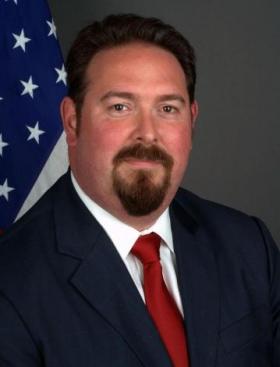 Ambassador Luis C.deBaca (ret.)
GLC Senior Fellow in Modern Slavery
August 1, 2018—May 31, 2021
(Juris Doctorate, University of Michigan Law School, Ann Arbor, MI, 1993)
Former Director, US Office to Monitor/Combat Trafficing in Persons
Project: "The 13th Amendment and the History of the Trafficking Victims Protection Act."
Brown Bag Talk: February 13, 2019 (event page)
A MacMillian Center interview with Ambassador Luis C.deBaca on human trafficking
Ambassador Luis C.deBaca talks about modern day slavery on the MacMillian Report
---
Ambassador (ret.) Luis C.deBaca coordinated U.S. government activities in the global fight against contemporary forms of slavery as head of the State Department's Office to Monitor and Combat Trafficking in Persons during the Obama Administration. As one of the United States' most decorated federal prosecutors, Ambassador C.deBaca investigated and prosecuted crimes of human trafficking, immigration, hate crimes, money laundering, and official misconduct. He updated the post-Civil War statutes and the 13th Amendment to develop the "victim centered approach" to modern slavery, which has become the global standard for combating human trafficking through the Trafficking in Persons Protocol to the United Nations' Organized Crime Convention. Ambassador C.deBaca advises governments, businesses, and civil society on transparency in supply chains and enforcement. He is a Open Society Human Rights Fellow and is on the faculty of Yale University, where he is the Robina Fellow in Modern Slavery at the Gilder Lehrman Center for the Study of Slavery, Resistance, and Abolition of the MacMillan Center.
---
GLC Postdoctoral Associate: July 1, 2019—June 31, 2020 
PhD, Political Science, Carleton University (Ottawa, Ontario), 2016 
Project: "Hello from the Inside: Race, Gender, and Unfree Labor with the Transnationally-Situated Prison Call Centre Industry" 
Brown Bag Talk: January 29, 2020 (event page) 
---
Dr. Redden completed a B.A. (Honours) in Political Science at Dalhousie University in 2008, a M.A. in Political Science at Acadia University in 2009, and a Ph.D. in Political Science with a specialization in Political Economy at Carleton University in November 2016. After completing her Ph.D. she worked for the Canadian federal government, across several departments, specializing in the application of Gender-Based Analysis Plus (GBA+) throughout the policy process. In July 2019, Dr. Redden joined the Gilder Lehrman Center for the Study of Slavery, Resistance, and Abolition as their 2019-2020 Modern Day Slavery and Human Trafficking Fellow. As part of the fellowship she will be undertaking research on the utilization of prisoners as call center labour in the United States.
Dr. Redden has presented her research at several top international scholarly conferences, including several International Studies Association (ISA) annual conventions, as well as at the Pan-European Conference on International Relations. Additionally, her work has been published in the International Feminist Journal of Politics, Globalizations, as well as a number of edited collections. She is currently preparing a manuscript based on her doctoral research project–The 'Feminization' of the Everyday: Examining the Gendered Nature of Worker Resistance within the Transnational Call Center Industry–which will be published as part of Rowman and Littlefield's Global Political Economies of Gender and Sexuality series in 2020.